The Best Power Dental Flosser – Guide and Review
Is your dentist always reminding you to floss whenever you come in for your regular tooth cleaning procedure? It's for a good reason; according to the Academy of General Dentistry, gum disease affects more than 75 percent of the U.S. population.
Flossing helps prevent gum (also known as periodontal) disease and gingivitis (an early stage of periodontal disease) by reducing the buildup of plaque between your teeth and removing food particles. This prevents the growth of bacterial colonies by getting rid of the particles before they have a chance to become lodged around your teeth and in your gums.
Most people achieve this by flossing using regular dental floss, which is a thin thread that goes in between your teeth; however, this is often painful as well as partially ineffective, as it doesn't manage to catch every last bit of plaque or every food particle.
It can also result in sensitive or bleeding gums. The solution is to invest in a water flosser – which you not only can reuse for years without replacing, unlike regular dental floss, but also which cleans your teeth more effectively and comfortably.
How do you know which water flosser to purchase? I've assembled a list of the five best power dental flossers, so that you can consider all of your options as well as take a look at the ones that I recommend.
Recommended Power Dental Flossers
1. Waterpik Aquarius Water Flosser
Water flossers work by shooting a jet of pressurized water at your teeth, which helps dislodge food particles as well as plaque buildup.
The Waterpik Aquarius Water Flosser has several modes, including floss and massage, which allow you to switch between settings and choose the one that is the most comfortable for you.
Along with these, I found its numerous other settings – including 10 different pressure settings and seven water flossing tips – to be the most helpful.
I never felt any pain in my teeth despite the high-pressure water, and was able to keep flossing for the full recommended minute (although this flosser actually has 90 seconds of water capacity at a time).
However, the downside is that this flosser is at the upper end of the price range, which means that you will have to pay for the extra features that it offers but still, in my opinion, it is one of the best power dental flosser. In summary, the flosser has the following options:
Highlighted Features
Choose between Floss and Massage modes
10 Pressure Settings
7 Water Flossing Tips
90 Seconds of Water Capacity
Compatible With 120VAC/60Hz Outlets
2. Waterpik Cordless Freedom Water Flosser
The main feature that I love about this flosser is that it is battery-operated and cordless, making it perfect for travel or small bathrooms where you don't want to have to deal with a long cord on which you have to hook up your flosser.
The flosser is also waterproof, and I appreciated being able to use it in the shower as part of my nightly routine.
With two pressure modes and three water flossing tips, this flosser has fewer overall features than the previous one, but makes up for it with how compact and easy to carry it is. The flosser even comes with a travel bag, so you are ready to go if you want to bring it along on your journey.
The price for this model is mid-range, so you don't have to break the bank to afford all of the features that it offers. In summary, the flosser has the following aspects:
Highlighted Features
3 AA Batteries included for cordless functioning
Waterproof design that makes it perfect for use in the shower
2 Pressure Modes to choose between
3 Water Flossing Tips
Travel bag to make transport easier and more convenient
3. Nicefeel® Water Flosser Oral Irrigator Covered Reservoir
This water flosser is somewhat larger than the other two because it has a bigger reservoir capacity – over 90 seconds of water for flossing using its high-pressure system.
I loved that I could choose between gentle and deep cleansing with 10 different settings on an adjustable pressure control.
The whole point of this flosser is convenience – I also appreciated the built-in tip storage on the flosser reservoir's lid, which keeps the tips away from dirt and dust on your countertop and clean for flossing.
Several aspects of the flosser itself made this model especially convenient, including the rotating direction control knob that allowed me to adjust my angle up to 360 degrees in order to reach all areas of my mouth and oral cavity.
Furthermore, the pause button on the handle meant that I could temporarily stop the flow of water at any time that I desired. This product is less expensive than the previous two and thus is on the more affordable end of the price spectrum; overall, it is on the list of best power dental flosser because it offers the following features:
Highlighted Features
10 settings that let you move anywhere between gentle and deep cleansing
A tip storage compartment built into the lid to keep your water flosser tips clean
Over 90 seconds of reservoir capacity
360° Rotating direction control knob so that you can adjust the angle of the flosser inside your mouth
Pause button included on the handle for your convenience
4. Gurin Professional Rechargeable Oral Irrigator Water Flosser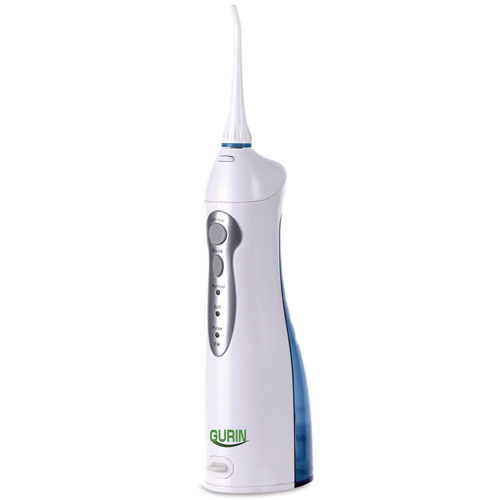 This flosser, like the Waterpik Cordless Freedom Water Flosser, uses batteries rather than an electrical cord, and thus is incredibly easy to operate.
Even better, the batteries are rechargeable, so you won't have to worry about replacing them.
I also really liked that the water tank was easy to fill and the motor was relatively quiet compared to other models. You can even remove the reservoir (which has an extra large capacity) for refilling.
Three operating modes – normal, soft and pulse – provided variety in my flossing experience, as I could vary the way that I flossed from a more gentle massage to a strong jet for removing especially tough particles of food.
To make it even more convenient for users, the tips are color-coded in case more than one person wants to use the flosser. The nozzles are interchangeable as well, for this same purpose. This flosser is very affordable, at half the price of the Waterpik Aquarius Water Flosser, and provides you with the following features:
Highlighted Features
High-quality rechargeable batteries
An easy-to-fill, removable water tank that has an extra large capacity
A quiet motor
BPA Free and FDA-approved
Three operating modes: Normal, Soft and Pulse
Two color coded and interchangeable tips
Rotating interchangeable nozzles
Compatible with universal voltage, 100 to 240V~50/60Hz:
5. Wfloss W01 Dental Water Flosser Oral Irrigator
This dental flosser is a particularly high-tech model in that you can charge it using a USB cord, and thus it's also cordless when you're actually flossing.
I appreciated that the flosser is waterproof, and that it is incredibly compact – it can fit easily in bags and luggage when traveling.
Another cool feature of this flosser is that it has a built-in two-minute timer, which turns it off automatically after that amount of time has gone by. This particular flosser has two different speeds: a high-speed setting for normal, everyday cleaning and a gentler, lower-speed one for people with sensitive gums, including children.
The flosser comes with three different heads and two replacement heads, so that you can accommodate for multiple users as well as make it last as long as possible before replacing these. The price of this model is mid-range, so you can afford the following features:
Highlighted Features
Compact and portable, cordless design
Storage bag included with the flosser
Two-minute timer function
Two speeds: high-speed and lower-speed pulse
200 mL capacity water tank
Three interchangeable heads and two replacement heads
USB cord for recharging battery
Waterproof design for use in the shower and other areas
One-year warranty and 30-day money back guarantee
Final Verdict
It's clear that there are numerous factors to consider when purchasing a water power dental flosser, from the number of speed settings that it has to whether you want a corded or cordless option. Furthermore, price is also a consideration, as budget constraints might limit you to a model that maybe doesn't have everything you're looking for but is a good bargain and will get the job done.
After testing out numerous dental flossers, I found that the Gurin Professional Rechargeable Oral Irrigator Water Flosser provides the most settings and most convenient use for a reasonable price. I recommend this flosser because you can adjust it to fit your needs more than any other; furthermore, because it's wireless, you can use it almost anywhere and at any time.
Everything about this flosser is built for comfort, from its color-coded tips to its quiet motor. Overall, I had the best experience with this model, which I found encouraged me to floss more through its easy user features.
You can purchase this model (and any of the ones listed on Best Power Dental Flosser list) easily and quickly through Amazon, and start using this helpful device to clean your teeth and prevent gum disease today.