Best Water Flossers for Implants – Guide & Reviews
Dental implants are life savers, providing alternative solutions. They are used to replace missing or badly diseased teeth. More convenient than dentures which are temporary, dental implant is semi permanent needing change on the average after about 10 years. They offer maximum comfort are and very natural looking. A synthetic tooth root is inserted during a surgery, to hold a replacement tooth.
Dentists usually offer this option to people who lose their teeth due to periodontal disease or an injury. Replacement could be for a single tooth, several teeth or even for all the teeth in the mouth.
Dental implants require the same level of care you would use for natural teeth to ensure great dental hygiene. When you have dental implants your teeth and gum must be in top shape, as there is a high risk of infection especially in the first six months. To eliminate this risk, dentists advocate for strict dental hygiene, recommending daily brushing and flossing.
Flossing removes plague and food particles which are left behind after brushing. Some parts of the teeth especially the back is hard to reach and food article might get stuck in there, eventually breeding bacteria and causing tooth disease.
Dental flossing helps to eliminate all of these. There are two approaches to flossing; string flossing and water flossing. String flossing can be very inconvenient, causes gum bleeding and time consuming. However with water flossing you get faster and more effective results. Water flossers are convenient for everyday use and are more effective in reducing gingival bleeding, inflammation and plague.
Water flossing helps to prevent bacterial infection and is strongly recommended for individuals who have had tooth implants. Picking a product that flosses efficiently while offering you gum massages will contribute greatly to your oral and dental health.
Read on to discover five best water flossers for implants that are, in my opinion, the perfect options.​
1. 3-Mode Water Flosser Cordless for Teeth Cleaning
This water flosser offers great value for money. The product is fitted with a 360 degrees rotating nozzle which can help to get to the most difficult areas to the gum line and the back of the teeth, doing a good job of eliminating food particles and teeth plague.
The flosser is accompanied by 2 replacement nozzles, 1 irrigator and rechargeable electric batteries, on a compact container which makes it very portable and handy for travels. It takes up very little counter space.
Designed with 3 speed modes: typical, soft and pulse, which lets you design just how much pressure you want, I would advise that you start from the lowest speed and gradually increase it till you can to a speed that is more comfortable and efficient for you. Using the highest speed can be quite startling and your gum might lose its sensitivity.
PROS
The rotating nozzle makes flossing very convenient and you can get to areas that are hard to reach.
The reservoir unit is very easy to clean.
The flosser is very handy, with a motor which does not get touch to touch.
It comes with a 2 minutes auto timer.
I would recommend it for people using braces because the nozzle had is quite compact and fits easily in the mouth.
It is quite compact and portable and it makes it a very great option for travel.
With the irrigator, you can connect the water flosser to a faucet for a steady flow of water, if you do not want the pulsating effect.
CONS
The reservoir unit is so small and the unit cannot give you a good clean, you have to stop to refill, which can be quite stressful.
The water unit only offers about 25-35 seconds of flossing before running out.
It takes too long to charge, on the average it gets to a full charge between 8-10 hours, which is quite a long stretch of time in my opinion.
There is a risk of water slippage is your mouth is not properly closed during usage which can make the flossing process very tedious and messy. To avoid this you either keep your mouth tightly closed, or you alternate between the off and on key while you catch your breath.
2. Nicefeel® Water Flosser Oral Irrigator Dental Care Power FC-168
This product is definitely an upgrade On the Nicefeel Cordless Rechargeable 3 Mode Water Flosser FC 158. It is designed with 10 water pressures and pulsations to give deep cleaning between teeth and below gum line, there is a comfortable speed for everyone be sure to patiently figure out the right speed or you so that you don't hurt your gums.
The nozzle can rotate in a 360 angle, causing less friction against the teeth and the gum, which make it quite ideal or people who have had teeth implants. You can use the switch button to control the intensity of the pressure of the flow o water during usage.
This water flosser is a companied by 7 water flowing tips, with on particularly adapted for people who use braces, a tongue scraper and a water unit with a 600ml capacity. The product is quite compact and as a beautiful sleek design. With the oral irrigator, you can connect if to a faucet and have an endless stream of water wit pulsations which will also get the work done.
PROS
No leaking at all, the design of the product makes it such that the product does not leak during usage at all, which is a great improvement on it earlier version.
The control buttons are easy to access.
The water unit reservoir holds enough water to guarantee at eats 90 seconds of intense pressure at a stretch.
The 360 rotating nozzle ensure that every part of the teeth is flossed even the parts that are usually hard to reach.
It has multiple tips which give a wide range of options.
It is very compact and handy
CONS
The price.
Water leaks from the reservoir after usage, it does not drain out the water automatically. If you forget to drain it and you leave it on your counter, you are going to return to meet a huge mess.
3. Dentalski Professional Water Flosser Oral Irrigator DS-600w with 5 Jet Tips
The product comes in a sleek minimalistic design. It gives a very clean after use feeling. This flosser is particularly effective; it has helped a lot with the coffee stains on my teeth. It has adjustable water pressures and pulsating levels that make it great for people with braces and implants
The adjustable water pressure has a range of up to 100 PSI w/1400 pulses per minute. The flosser also comes with a 2 minutes auto timer that gives off beeps at a 30 second interval, which aides the user in getting even flossing and lets you decide the period you want to spend on flossing.
PROS
It comes with a pack for convenient storage of the tips.
It will give an average of 90 seconds of intense pressure without needing a refill; the water unit holds a sufficient volume.
With 10 pressure settings, it would take care of people with sensitive tips and even those who need a massage or need to get rid of tough biofilm. There is something for everyone with this flosser.
Magnetic rechargeable battery technology allows charging your device in a very cool way.
The water reservoir unit comes with an in lid tip storage, which provides a space efficient way of storing the tips.
It is smaller and quieter than previous models.
It has 36o degrees rotatable nozzle.
It comes with a silicon tip which is great or people with teeth implant, as it is very gentle and will cause them less pain during usage.
CONS
It is not cordless, so it can be very restrictive
It's quite pricey.
4. Waterpik Cordless Advanced Water Flosser, Brilliant Black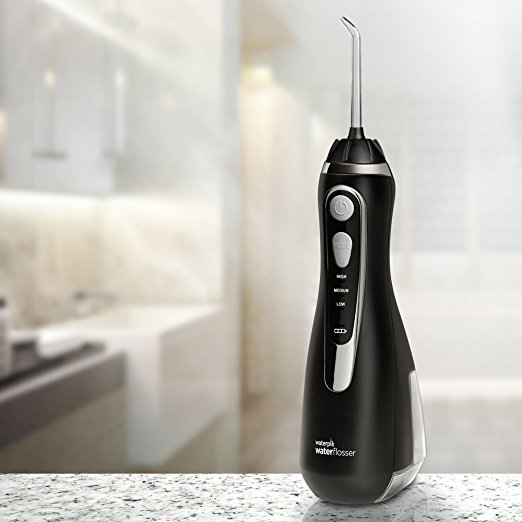 If you have sensitive gum, this is a great flosser for you. Its simple ergonomic design allows for easy grip and handling. The cordless function makes it very convenient and it can also be used in the shower.
​
It has an easy to fill reservoir, with 3 pressure settings and 4 different tips, with a sleek minimal black design which makes it very appealing to male users.
This flosser is a good choice for people who have teeth implants. It has about 45 seconds of intense water capacity. The flosser is also accompanied with a travel water plug and a travel bag making it a great choice for vacationers.
PROS
It is waterproof and is very convenient for use in the shower.
It is very compact and great for travel.
It has varying pressure modes.
The water unit is very easy to fill.
CONS
For a product that claims to be advanced, its reservoir is very small, and you are almost sure to run out of water mid way into your application.
The life span of the accompanying battery is very low, it gives out quite easily.
The manufacturers instruct that the classic tip should be replaced every 6 months and that every other top should be replaced every three months, which is additional expense for the user.
5. Nicefeel® Cordless Rechargeable 3-Mode Water Flosser
This product has 3 modes for pressure control and this gives very strong and effective results. It comes with rechargeable electric batteries which make it a great product for use during travel. It is also very compact and handy.
PROS
It gives very strong and effective cleaning
Very sleek ergonomic design
It is rechargeable
It is relatively cheaper than a lot of flossers on the market
The cordless function is very convenient and not restrictive
The full charge lasts for about 2 weeks
It has very fast action. It gave me a very clean floss in about 2 to 3 minutes of usage
It takes a while to get used to it, although this is not a challenge peculiar with this product
CONS
It can be very messy, there was a lot of leaking during use, I would recommend that it be used in the shower.
The product isn't very durable, mine gave up on me within three weeks of use, it is not for regular usage
It does not come with special tips adapted for people who have had implants
The reservoir does not drain out water well, it always has little water left in it, which is difficult to get out and this can be a breeding area for bacteria.
​
Final Verdict
The Nicefeel® Water Flosser Oral Irrigator Dental Care Power FC-168 tops the list of best water flosser for me simply because it offers the most value in my opinion. It is moderately priced, gives me consistent results and very durable. The product was designed with ease of the user.
I look out for the following when making a choice of water flosser:1. I check to see if the flosser is easy to use and requires minimal manipulation2. If it offers effective cleaning after all the aim is to get very clean teeth3. If the product is very easy to assemble and if there is detailed instruction in the user manual4. I also consider whether it is handy and compact and suitable for travel5. It must have a wide range of varied speed and pressure settings6. The size of the water unit must be substantial7. Rechargeable electric batteries
Because I have teeth implants, I also check to see if the water flosser has a rotating nozzle, specialised tips that offer low abrasion for teeth and gum which is gentler on my implants and when the flosser has varying pressure mode that can cater to my diverse dental health needs. The Nicefeel® Water Flosser Oral Irrigator Dental Care Power FC-168 does this effectively for me.